Louis Tharp
Co-founder, Executive Director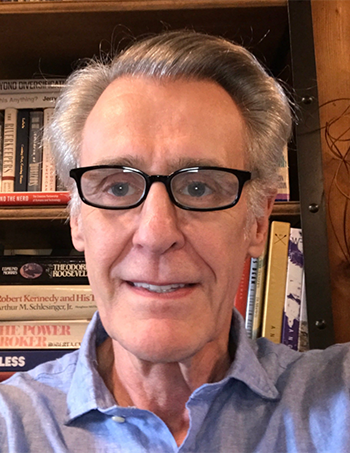 About Louis
After running a successful international public relations, advertising and marketing company for nearly 20 years, taking equity positions in tech companies during the '90s, and working for some of the largest international PR and marketing agencies, Louis Tharp became a social entrepreneur in 1999, co-founded and acted as the initial funder for CreakyJoints, an international service organization for people with arthritis. In 2007 CreakyJoints became part of the Global Healthy Living Foundation, which he also co-founded. GHLF focuses on health policy, advocacy, research, education and patient support issues.
In addition to his work with the foundation, he is also CEO and co-founder of TGI Healthworks, a healthcare research and marketing company.
He was previously a contract writer for The New York Times as well as other daily newspapers and automotive publications, and published his first hardcover book, The Complete Manager's Guide to Promotional Merchandise (Dow-Jones Irwin) in 1989 – named one of the top business books of the year.
In 2005, he became the first out gay coach at the U.S. Military Academy, where he was the swim coach of the West Point Triathlon team. He published Overachiever's Diary in 2007, a softcover book recounting the West Point tri team's rise to national prominence. Proceeds from book sales go to the West Point triathlon team. He is also a competitive open water and pool swimmer with 14 international World Masters, Gay Games and OutGames gold, silver and bronze medals.
From 2003 to 2008, he served on the board of visitors for the College of Business at Butler University, Indianapolis where he graduated with a B.S. and a B.A. in Journalism in 1972. Mr. Tharp served in the 38th Infantry Division, Headquarters, Indiana National Guard from 1972-1978. He was Chairman of the Anti-Bias Commission, Rockland County, New York, from 1994-1996; Chairman of the Board of CANDLE, a Rockland County, New York, non-profit from 1994-1997; is a former member of the board of the Victory Fund, Washington, DC, the Lambda Chi Alpha Educational Foundation, and a current member of Knights Out, U.S. Military Academy.
In 2019 he accepted a position as a board member of AIDS United where he is treasurer and chairman of the investment committee, and in 2021 he accepted a position as the triathlon swim coach for the Columbia University Triathlon Club. From 2012-2018 he served in the Obama administration on the Army Education Advisory Committee and was recognized for his service in the Congressional Record.
In 2023 He agreed to serve again on the Army Education Advisory Committee in the Biden Administration.
Louis and his husband, Jim Bumgardner, live in Upper Nyack, NY.