Impact of Legislation Protecting Patient Assistance Programs on Health Insurance Premiums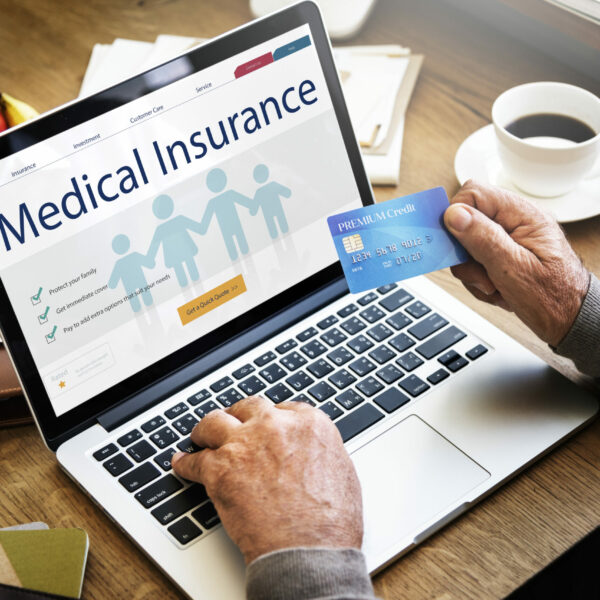 Do State Laws Protecting Patient Assistance Programs by Prohibiting Accumulators or Maximizers Impact Health Insurance Premiums?
Patient assistance programs (such as co-pay cards) help patients better afford medications because, for many years, these payments counted toward the deductible or out-of-pocket (OOP) costs a patient had to pay each year before their insurance policy would begin reimbursing their health care costs.
Accumulators prohibit the value of a manufacturer's co-pay support payments from counting toward patients' annual deductible and OOP maximum.
Maximizers set patients' OOP maximums equal to the maximum value of a manufacturer's patient assistance program, which is typically spread evenly throughout the benefit year.
In short, insurance programs and pharmacy benefit managers (PBMs) implement accumulators and maximizers to stop patient assistance funds from counting toward the insured individual's deductible or maximum OOP spending.
The Global Healthy Living Foundation (GHLF) analyzed whether state laws protecting patient-assistance programs by prohibiting accumulators or maximizers have affected health insurance premiums to date. The interactive tool below shows how average health insurance costs fluctuated since 2014 in relation to state laws protecting patient assistance programs. GHLF will update the analysis and this website regularly as new laws are passed and new health insurance costs are published.
A proposed federal bill, HR 5801 The HELP Co-pays Act, if passed, will require all insurance policies to count "third-party payments, financial assistance, discounts, product vouchers, and other reductions in out-of-pocket expenses" toward "deductibles, co-insurances, co-payments, and OOP limits." However, no action has been taken on this bill since referral to the Subcommittee on Health on November 2, 2021.
Findings of the Analysis
The GHLF analysis shows that laws protecting patient assistance programs have not impacted health insurance premiums to date. Overall, the rate of health insurance premium increases did not change after the passage of state laws requiring that patient assistance funds count toward patients' or policy holders' deductibles or out-of-pocket maximum payments.
Considering each level of health insurance policy coverage, also referred to as the "metal tier," no statistically significant differences in the rates of health insurance premium increases have occurred to date after passage or implementation of legislation protecting patient assistance programs by prohibiting accumulator and/or maximizer policies.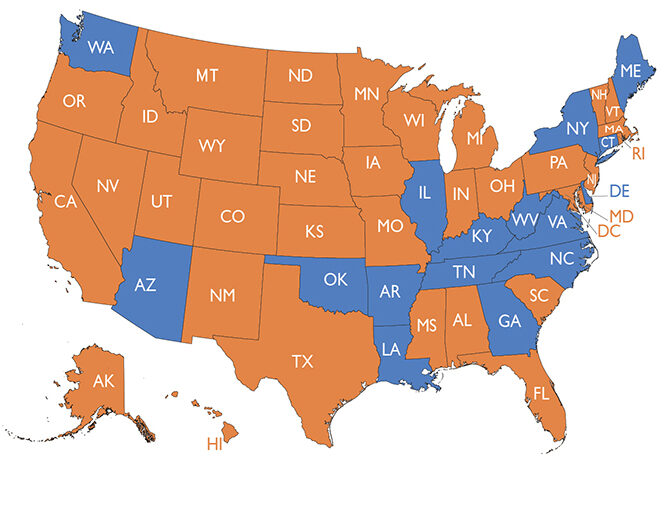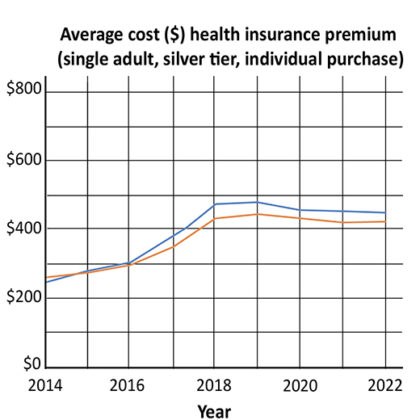 How to Use the Interactive Tool Below
Please first accept the cookies so that you can navigate from data for one state to another
Use the buttons above the map to switch between data for different:

Metal tiers (bronze, silver, or gold) and
Policies available for individual purchaser or small group purchaser

Click any red two-letter state abbreviation to see the average health insurance premium data for that state (labeled with state abbreviation) compared with the average premium for all states WITH (blue) or WITHOUT (orange) legislation protecting patient assistance programs
NOTE: missing data points reflect unavailability of information (for example, Hawaii did not submit any data for bronze tier insurance in any year); when this occurred, the state in question was not included in the calculation of average premiums across states for that year
A point with an * indicates a statistically significant increase; the year legislation became effective is shown with a large circle
Adjust the size of the map and graph by scrolling in/out and tilt or rotate by moving the mouse while holding down the mouse button
To print from a PC, hold down the ALT key and press the PrntScrn key.
To print from a Mac, hold down the shift and command keys and press 3.
Paste resulting screenshot into a document and print.
Raw data was taken from the HIX compare + website (www.hixcompare.org), sponsored by the Robert Wood Johnson Foundation, which provides data for most health insurance policies available through the Affordable Care Act (ACA) Healthcare Marketplace at Healthcare.gov.
We created two separate databases when calculating average health insurance premiums: health insurance available to 1) individual purchasers and 2) small group purchasers. This analysis matches the availability of data from HIX compare +. For plans available to individual purchasers, each state's average premium for each insurance metal tier for every year from 2015 to 2022 was calculated and recorded for an individual adult and for a family of two adults and two dependents. For plans available to small group purchasers, the same averages were recorded for the years 2015 to 2021. Data for 2022 is not yet available for insurance available to small group purchasers and will be updated as it becomes available.
Averages were calculated as the sum of the health insurance premiums for all plans in a specific tier in a particular state divided by the number of available health plans for that tier in that state. The percent rate of change in these averages was calculated as follows.
2016 to 2017 (example) Year Over Year Change = (2017 𝑃𝑟𝑒𝑚𝑖𝑢𝑚 −2016 𝑃𝑟𝑒𝑚𝑖𝑢𝑚 / 2016 𝑃𝑟𝑒𝑖𝑚𝑢𝑚)×100
Changes in the magnitude of the percent rate change in average premiums were compared as raw percentages and analyzed with repeated ANOVA measures to evaluate whether rate changes were significantly different from one year to the next. The repeated ANOVA test is appropriate for multiple measurements of the same variable over time concerning a change assumed to have a direct non-random relationship with another variable. In this case, the repeated measure is the average health insurance premium. The second variable is the introduction of legislation relating to the prohibition of accumulators and/or maximizers impacting patient assistance programs. ANOVA analysis also allows for incorporating a spline function that can determine if a specific event (such as the enactment of legislation) had a statistically significant impact on changes in the rate of increase or decrease in premium prices. The null hypothesis was that there is no correlation between the rate of increase/decrease in the average premium price and the implementation of co-pay accumulator and maximizer prohibition.
Statistically significant changes from year to year are denoted with an asterisk in the data table and on the graph by clicking on the button to see the statistical significance. The year in which legislation prohibiting accumulator and/or anti-maximizer policies went into effect is highlighted in purple in the data table.
DEFINITIONS
Accumulator: a clause in some health insurance policies that excludes the value (dollar amount) of support from patient assistance programs counting toward an insured person's annual deductible and maximum out-of-pocket obligations.
Adult: For the purposes of this research we used the HIX data for the average healthcare insurance premiums for a single person, age 27 or more as the average rate for a single adult. Rates for single adults of different ages will vary around this average.
Affordable Care Act (ACA) Healthcare Marketplace: a shopping and enrollment service for medical insurance created by the Affordable Care Act in 2010. This service is available online or by phone and managed by Federal or State governments.
Co-pay: a fixed amount of money paid by an insured person for specific covered health services and prescriptions. Copays at times may not count toward the insured person's deductible and are owed by the insured individual and policy holder until they have spent their out-of-pocket maximum on health care expenses.
Co-insurance: often a percentage of a bill for health care services or prescriptions that the insured person or policy holder owes after they have paid their deductible and until they have paid their out-of-pocket maximum amount.
Deductible: a set dollar amount an insured person or policy holder is required to pay toward covered medical expenses within a single year before health insurance begins paying for any portion of health care expenses, with the exception of some preventive care that is paid by the insurance before the deductible is met.
Family: For the purposes of this research we used the HIX data for the average healthcare insurance premiums for two adults with dependents under age 26. Rates for families with different numbers of adults and dependents will vary around this average.
Health insurance: a program for purchase that helps the purchaser (the policy holder) pay for medical services and prescriptions for themselves and dependent family members. The buyer (insured) and the seller (insurance) each agree to pay amount toward medical expenses.
Health insurance premium: the amount paid by an insured person to purchase a health insurance policy for themself and any of their dependents (spouse and children usually). Premiums are charged every year and usually paid in 12 monthly installments.
Employee health insurance premium: People who receive health insurance sponsored by their employer share the cost of premiums with the employer, and their share is typically deducted from their paycheck.
Individual purchaser: a person who buys their own insurance policy for themself and their dependents and pays the entire cost of premiums with no involvement of employers or other organizations. Some individual purchasers are eligible for government rebates or subsidies for purchase of health insurance.
Maximizer: a clause in a health insurance policy that sets out-of-pocket costs equal to the maximum value of a patient assistance program, typically applied evenly throughout the benefit year. Such payments are excluded from the patient's annual deductible and maximum out-of-pocket obligations.
Metal tier: different categories of health insurance defined by the portion of health care costs paid for by the insured and the insurance, with the insured individuals portion decreasing as the category goes from bronze to silver to gold to platinum. Refers only to how costs are shared and not to quality of care provided.
Out-of-pocket maximum: the most an insured person or policy holder has to pay for covered health care services in a plan year. After this amount is spent on deductibles, copayments, and coinsurance the health plan pays 100% of the costs of covered benefits.
Patient assistance: programs that provide financial assistance (discounts or subsidies) to people who can not afford the cost of the prescription medicine(s) the company produces. These programs are offered by pharmacy organizations, non-profit foundations, state governments, and pharmaceutical companies. When sponsored by a company, the assistance is only for the drugs produced by that company.
Pharmacy benefit managers (PBMs): companies that negotiate what insurance companies will pay pharmacies and pharmaceutical companies for drugs, including discounts and rebates. PBMs often are also responsible for establishing formularies (list of which drugs insurance will or will not cover) and processing and paying bills for prescription drugs. PBMs also own specialty pharmacies that dispense medicines.
Policy holder: the individual who purchased the insurance for themself or their dependents, even if the purchase was paid for, in part, by their employer or another organization.
Policy: the written agreement that details what amounts or portions of medical or pharmacy costs will be paid by the insured (buyer of the policy) and the insurance (seller of the policy) toward specific medical expenses.
Small group purchaser: organizations with fewer than 50 employees or members that may purchase a policy on behalf of the employees or members. Often the organization or employer pays a portion of the cost and deducts the policy holder's share remaining share of the premium from their pay or dues.
Esteban Rivera, MS; Anne M. Sydor, PhD; and Robert Popovian, PharmD, MS
Global Healthy Living Foundation Patient-Centered Economic and Policy Research
For questions or to learn more, contact Robert Popovian, Chief Science Policy Officer at [email protected].