This Pfizer Scientist Helped Develop the COVID-19 Vaccine: Here's What She Wants Others to Know About It
This Pfizer Scientist Helped Develop the COVID-19 Vaccine: Here's What She Wants Others to Know About It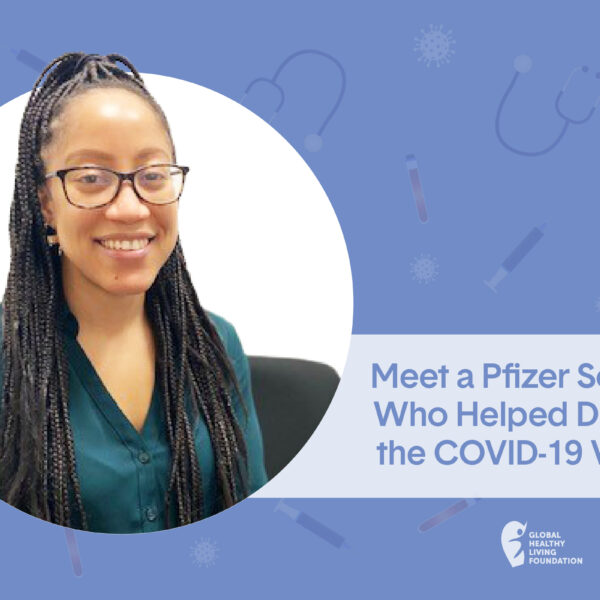 Learn more about our FREE COVID-19 Patient Support Program for chronic illness patients and their loved ones.
When we think back to the start of the pandemic in March 2020, we remember all the ways — big and small — our lives completely changed. Schools closed, vacations were cancelled, social events got postponed. Many people began working from home or had to stop working altogether.
For Darryl Melissa Charles, that time was filled with its share of changes too — but for an entirely different reason. Charles, 31, is a vaccine research scientist at Pfizer who works out of the company's research & development campus in Pearl River, New York. (It's less than 10 miles away from the main offices of the Global Healthy Living Foundation in Nyack, New York.)
As part of the team that would go on to create the first COVID-19 vaccine authorized in the U.S., Charles recalls spending the beginning of the lockdown on quiet drives to work, where there was no one else on the road and things felt eerie and unreal. "I remember thinking that this was my new reality," says Charles. She and her colleagues started arriving to work earlier and earlier and staying later and later because they were so motivated to do something, anything, to do their part to help end the pandemic.
Long days turned into long weeks and long months. Before Charles knew it, she was logging into work a Monday in November to learn —along with the rest of the world — about the clinical trial results, which reported about 95 percent efficacy. "It was just amazing — I can't put into any other words. To understand that this science is groundbreaking. It's the future of vaccines."
Charles has worked at Pfizer for about five years. She works on developing the assays, or testing materials, that measure antibody responses. "The point of a vaccine is to build an immune response to help your body develop antibodies, in this case, to SARS-CoV-2," she explains. "The assays we develop helped to measure the levels of antibodies in samples from patients during the clinical trials."
That said, Charles says she didn't really comprehend the full impact of her team's work until after the vaccine was approved in December and she started to hear about how it would directly impact her friends and family who were health care and essential workers. "One of my best friends is a PA [physician assistant] and her fiancé is a respiratory therapist," says Charles, adding that they've been on the front lines this whole time. She was so grateful that the vaccine was coming to their hospital and urged Charles to speak up and tell others about her role in helping to develop it. "She told me, 'it's really important for other people to know that,'" Charles recalls.
A Facebook Message that Inspired the World
So Charles posted a message on Facebook on December 28, 2020 — a photo of her wearing a blue sweater emblazoned with the words "Science Will Win" standing next to a sign on Pfizer's campus. It included the following:
2020 was a year overshadowed by the SARS-CoV-2 (COVID-19) pandemic. Early mornings badging into the lab, leaving long after scheduled work hours, and even coming in on weekends to meet rigorous timelines. It never occurred to me that my position in Vaccines Research would amount to having a global impact; nor did I realize how important it is for the world to know that a face like mine worked tirelessly to release a preventative treatment to help heal the world. 
This year my hard work was rewarded with a promotion to "Scientist." The weight this carries is beyond my wildest dreams. I often get the "You work at Pfizer? You worked on the vaccine?" Followed by a look of utter shock and disbelief. Black women in science do exist, and I hope to inspire many more to follow this path because representation matters. 
The past several weeks viewing my timeline has left my heart filled. All those who maintain their faith and trust in science, I thank you. We try our best to help keep our communities informed and lead by example, especially when it is so easy for misinformation to spread. 
I am a Vaccine Research Scientist. I love and believe in what I do. I believe that Science Wil Win.
Charles paired her post with a few hashtags, including this powerful one: #BlackWomenInScience.
Encouraging the Next Generation
A big part of why Charles says she posted about her role in the COVID-19 vaccine development is because she firmly believes that it's important for other people in the community to see young, Black, female scientists because it can help demonstrate to others this this is a viable career path for them.
"Growing up, I never thought about becoming a scientist," says Charles. You can't dream of becoming what you don't know about. At one point, she thought she might be a nurse or pursue dental school, then happened to fall into scientific research during college and graduate school.
Charles got her undergraduate degree in cell and molecular biology from SUNY Binghamton in New York and then went on to earn a master's in biomedical studies from Rutgers University in Newark, New Jersey. Biology — specifically, learning about the human body and how it worked — was always her favorite subject growing up. But Charles says it was almost by chance that she pursued scientific research as a profession. "Looking back on it now, it feels as though I was meant to be here," she says. "If I didn't love my career and what I do, I wouldn't be able to speak about it with such passion."
Charles acknowledges that there is a lack of diversity in science research, but that she's seeing things starting to change for the better. For current students, particularly women and people of color, she hopes that "seeing a face like mine and speaking about my experience and how I got here will help to encourage others to follow the same path if it truly is their interest."
On Vaccine Education and Building Confidence
While Charles is herself a firm supporter of vaccination, she recognizes that some people are still hesitant and may need more time and information to make a decision. She hopes that people in her local community can see that local, ordinary people like her have helped to develop the vaccine, which can help build trust and give people an opportunity to learn and ask questions. "I believe it has opened the door for people wanting to educate themselves," she says.
"I'll tell people that my parents are vaccinated," says Charles, whose mother received the Pfizer vaccine; her father and brother got the Moderna vaccine. "I try to tell everyone that everyone's experience [getting the vaccine] is different. There's a range of questions I get asked and I can't always speak to all of them but I try to refer people to credible sources to answer their questions."
Charles is an immigrant from Haiti; she moved to the U.S. when she was 2 years old and grew up in Rockland County outside of New York City. Her community is a diverse melting pot with many immigrant families. Helping to address vaccine hesitancy in the Haitian community is particularly important to Charles.
"There are cultural barriers that will take time to dissolve," she says. She often shares with others that her family is vaccinated, noting that it's important for others in the community to see that. "I hope that that more people decide to get vaccinated, the more others will follow suit."
Expanding access to underserved communities, such as via pop-up clinics in Rockland County communities that have had difficulty accessing the COVID vaccine, is "extremely important," says Charles, because it helps everyone to lead by example. "When others see other people partaking [in getting the vaccine], it really helps."
Hitting Close to Home 
When Charles thinks about all that's happened over the past year, in her work and family life, the feeling that surfaces most strongly right now is one of relief. She and her fiancé have both lost family members to COVID-19 and have many essential workers in their families.
Her mother works as a pharmacy tech in a local hospital and has been on the front lines the whole time. Her brother is a police officer. Charles recalls a time during the height of the pandemic last year when her brother called her to tell her that he was potentially exposed to the coronavirus, and the wrenching anxiety that ensued while helping him navigate getting tested, quarantining, and waiting out his test results.
"I know I'm far from the only one who's had experiences like that," she says. "So to be at a point now where pretty much my entire household is vaccinated, there is quite this feeling of relief — that we can start to feel that we're all going to be okay. And to know that soon the COVID-19 vaccine will be available to everyone so we can have our loved ones back and just return to a normal life. That's all anyone really wants at this point."
Charles adds that the most important thing about her journey as a vaccine research scientist over the past year is that it's far from over. "We're still in the lab every day, there are still questions that need to be answered. This work is still top priority for all of us, and will be for some time, even long after we 'return to normalcy.'"
Pfizer Inc. is a corporate sponsor of the Global Healthy Living Foundation, but this content is editorially independent and is not sponsored by Pfizer.
Get Free Coronavirus Support for Chronic Illness Patients

Join the Global Healthy Living Foundation's free COVID-19 Support Program for chronic illness patients and their families. We will be providing updated information, community support, and other resources tailored specifically to your health and safety. Join now.