THIOPURINE MEDICATIONS ARE LINKED WITH RISK OF SEVERE COVID-19 IN INFLAMMATORY BOWEL DISEASE PATIENTS
THIOPURINE MEDICATIONS ARE LINKED WITH RISK OF SEVERE COVID-19 IN INFLAMMATORY BOWEL DISEASE PATIENTS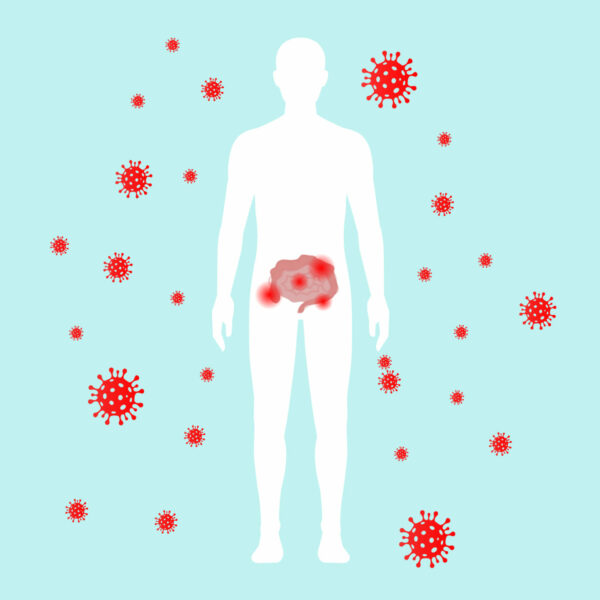 As the COVID-19 pandemic continues, there's still a lot to learn about which types of underlying health issues — and medications associated with those health issues — affect the risk for severe illness and death among people who contract the coronavirus. A new study in the journal Gut may provide a clue, at least among people with inflammatory bowel disease (IBD), which includes Crohn's disease and ulcerative colitis.
In the study, IBD patients who took thiopurines (such as azathioprine, or Imuran) were more likely to develop severe COVID-19 as were patients taking thiopurines in addition to anti-tumor necrosis factor (TNF) biologic medications, such as adalimumab (Humira). But TNF blockers were not linked with an increased risk. Thiopurines are drugs that reduce inflammation by damping down the exaggerated immune response that helps drive IBD.
Doctors have been concerned that immunosuppressant drugs may elevate the risk for severe COVID-19, defined as being admitted to the hospital, needing a mechanical ventilator, or dying.
The researchers based their findings on information from the Surveillance Epidemiology of Coronavirus Under Research Exclusion for Inflammatory Bowel Disease (SECURE-IBD), a database specifically launched to look at COVID-19 outcomes in IBD patients.
In a previous analysis of SECURE-IBD, the same authors found that IBD patients taking corticosteroids or mesalamine/sulfasalazine were also at a heightened risk of severe COVID-19 illness. Both mesalamine (Asacol and other brand names) and sulfasalazine (Azulfidine) belong to the class of drugs known as aminosalicylates, which are different from thiopurines. They work by reducing inflammation in the intestine.
For this study, the authors revisited the same dataset, looking at nearly 1,500 IBD cases from 47 countries. Overall, almost 8 percent (112 patients) developed severe COVID-19. Compared with people taking TNF antagonists alone, those treated with only thiopurine had a fourfold greater risk of severe COVID-19, as did people taking combination TNF antagonists and thiopurine. This suggests that thiopurines were driving the elevated risk.
As the authors state, "This is in line with previous studies that have observed a higher risk of viral infections in patients treated with thiopurines alone or in combination with TNF antagonists."
TNF antagonists might even be protective against severe COVID-19 precisely because they curb levels of TNF, the authors state. "Higher baseline TNF levels have been associated with an increased risk of death in COVID-19, and the use of TNF antagonists as a COVID-19 treatment has been advocated by some experts in order to blunt the robust inflammatory response seen in severe disease," the authors write. The authors didn't find any notable differences between different classes of biologic drugs.
Most of the patients in the study who developed severe illness (79 percent) were over the age of 50, which makes it difficult to extrapolate the findings to a younger age set. Having other chronic health conditions and being treated with corticosteroids were also associated with a greater likelihood of severe disease.
The findings could mean that certain high-risk patients with IBD who are in stable remission with combination TNF antagonist/thiopurine therapy may be able to discontinue the thiopurine, at least while the pandemic continues to rage. This might include patients who are older and/or have multiple other health conditions that are associated with poor COVID-19 outcomes. This wouldn't be necessary in younger patients with no other risk factors for severe COVID-19.
The finding could help guide decisions on treating IBD during this pandemic.
"Treatment of IBD has always involved balancing benefits and harms of treatment and the disease itself," study senior author Michael D Kappelman, MD, associate professor of pediatrics at the University of North Carolina at Chapel Hill School of Medicine tells MedPage Today. "COVID plays a minor role in my balancing the benefits and risks, with the corollary that IBD should play a minor role in decisions about returning to work, school, etc."
Get Free Coronavirus Support for Chronic Illness Patients

Join the Global Healthy Living Foundation's free COVID-19 Support Program for chronic illness patients and their families. We will be providing updated information, community support, and other resources tailored specifically to your health and safety. Join now.