EASING THE PAIN OF MIGRAINE WITH NURSE PRACTITIONERS
EASING THE PAIN OF MIGRAINE WITH NURSE PRACTITIONERS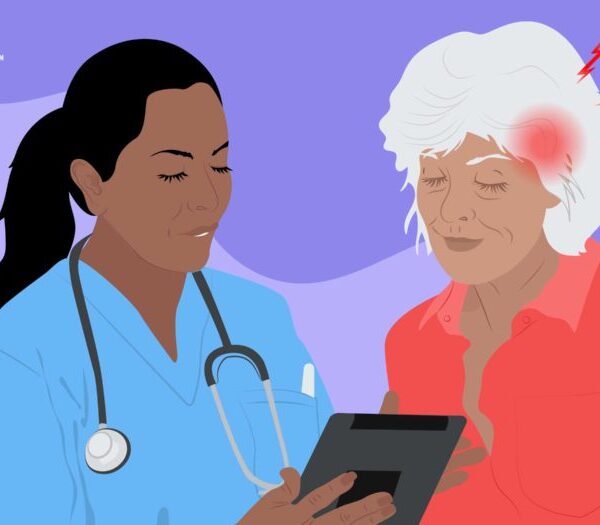 The Burden of Migraine
About 1 in 7 people experience migraine, which are the second highest cause of disability in the world. Not just a headache—migraine is primary headache disorder, which means headache that is not caused by something else. Migraine is a serious condition that causes more than just headache pain, although the pain can be severe. Other migraine symptoms can be disabling, and migraine is a serious condition that affects people's well-being, quality of life, and productivity.
Shortage of Headache Specialists
Despite the size of the problem, there is only 1 headache specialist in the U.S. for every 85,000 people of the 40 million who live with and need treatment for migraine. Because there are so few headache specialists, 1 or 2 people of every 10 who have migraine get treatment for it from their primary care provider.
Many people who have consulted a health care provider of any type about their migraine haven't had treatment because of side effects or risk factors for heart disease. Newer effective treatments for migraine without those side effects or risks have become available over just the last few years. That is excellent progress but has also increased the demand for those headache specialists who were already in short supply. Unsurprisingly, the wait times to see a headache specialist are long.
Nurse Practitioners Can Help Fill the Gap
Many headache clinics, neurology practices, and primary care teams include a nurse practitioner who may be able to help much more quickly than waiting for the headache specialist.
As Carol A. Barch, MN FNP-BC AHQ, who is a nurse practitioner at the Stanford Medicine Headache Medicine Clinic in Stanford, California notes, "Nurse practitioners often serve as front line providers, so very likely a person with headaches will have a first encounter with a nurse practitioner, who is able to accurately diagnosis and treat those with migraine." As in all chronic disorders it is important to have a provider who you trust and can provide you with meaningful information and guide your management. Nurse practitioners excel at patient education and counseling patients with chronic disorders. The few NPs who work in specialty clinics also possess more skills and knowledge related to headache management. They perform procedures and manage more complex migraine, allowing physicians to provider wider access to more patients."
Just because you have a nurse practitioner involved in treating your headache doesn't mean you do not get a doctor who is headache specialist. Instead it means adding another qualified person to your care team.
Carol Barch also says, "Like all providers nurse practitioners discuss more complex cases with colleagues to make sure nothing is missing from the diagnostic work up or management. The best example would be an unusual presentation or finding. Another example is when progress is not being made and the nurse practitioner will then consult with the doctor for more suggestions to help the person with migraine."
Keys to Working with a Nurse Practitioner for Migraine
Nurse Practitioners for Diagnosis:
Migraine is diagnosed in two ways. First, the health care provider will look for other possible causes of the symptoms of migraine, commonly including head and face pain (especially but not always on one side of the head), nausea and vomiting, visual disturbances (aura), sensitivity to light (photophobia), sensitivity to sound (phonophobia). Tests to rule out those other conditions may be needed, including imaging, but only if the symptoms of more serious problems are present. The second step is to confirm that the pattern of symptoms and when they occur matches what is seen in migraine.
That level of diagnosis can be done well and effectively by a nurse practitioner and that process is made easier when patients can clearly describe what their symptoms are, how often they happen, and how long they last.
Keep track of your symptoms—what they are like, when they happen, how long they last and how many days per month you have an attack. Many migraine-tracking diaries are available as easy-to-use mobile phone apps. If the light from the screen bothers you during an attack, wait and record what happened after the attack is over.
Be sure to share any red flags for other causes of headache you have. These include having the worst headache of your life, headache that wasn't there one minute and was terrible the next, having a fever or being close to someone with fever, unexpected weight loss, a different to your attacks, and headaches that happen at very specific times (such as the night , during sex, or with coughing, sneezing or crying).
Think about how long you have had migraine and why you are seeking help now. Have your migraine attacks gotten worse or changed somehow? This is also important for your health care team to know.
Nurse Practitioners for Treatment:
Nurse practitioners can prescribe treatments, which they almost always do in collaboration with a doctor.
Many treatments for migraine are still new and many insurance companies try to force a patient to use older treatments first, even when their health care provider thinks they should use a newer treatment. This is called step therapy and we advocate strongly against these policies. But you might still have to deal with it, so it is best to be prepared for a visit with a nurse practitioner with notes about what treatments you have tried, when you tried those treatments, and how they worked. Include any over-the-counter treatments—medicine you buy off the shelf at a store—on your list.
More importantly, having those notes will also help the nurse practitioner determine what treatments are likely to be right for you—new or old.
Educate yourself before your visits. Because many treatments are new, your nurse practitioner may not have learned about a specific treatment yet. But remember, the focus of nurse practitioners is education and most of them want to help you learn.
Don't forget to talk about lifestyle treatments, like exercise, staying hydrated, and getting enough sleep. All of these are proven to improve migraine, and because the training nurses traditionally has more focused on taking care of you as a whole person and not just a disease, nurse may have an easier time helping you with these aspects of treatment.
Consider A Nurse Practitioner
Whether you have had treatment for your migraine attacks before or not, the next time you schedule an appointment, consider asking to see the nurse practitioner if the practice has one. This can be a great way to more access effective collaborative care.
Global, regional, and national incidence, prevalence, and years lived with disability for 328 diseases and injuries for 195 countries, 1990-2016: a systematic analysis for the Global Burden of Disease Study 2016. Lancet. 2017;390(10100):1211-1259. https://doi.org/10.1016/S0140-6736(17)32154-2