I've Tried More than 50 Treatments for Migraine: A GHLF Patient Advocate Shares Her Story
I've Tried More than 50 Treatments for Migraine: A GHLF Patient Advocate Shares Her Story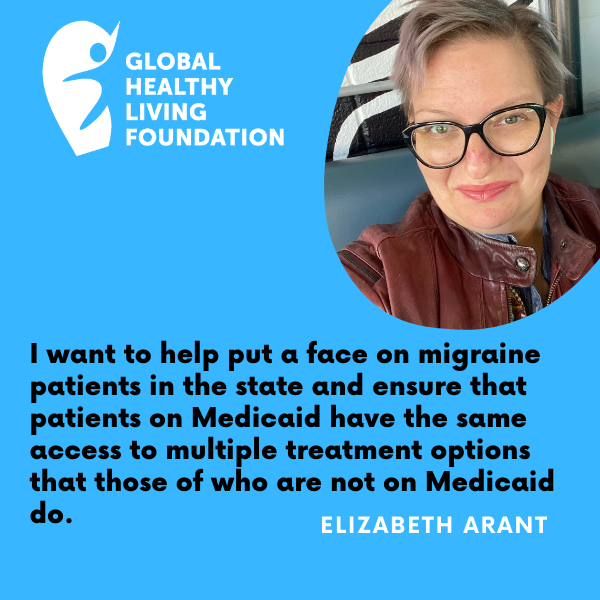 Being a member of the Global Healthy Living Foundation's 50-State Network, our grassroots patient advocacy group, means speaking up when given the opportunity. Migraine advocate, nurse, and 50-State Network member Elizabeth Arant hoped to do that by providing testimony during a recent meeting of the Arizona Drug Utilization Review Board (DURB). Although Elizabeth was unable to share her story with the Arizona DURB, she hoped it would help others with migraine disease get access to better treatments regardless of their health care coverage plan.
Below is her testimony.
***
My name is Elizabeth Arant, and I am a registered nurse and migraine patient advocate from Scottsdale, Arizona.
On May 19, 2021, the Arizona Medicaid Drug Utilization Review Board will meet to discuss what medications the state Medicaid plan covers. I had hoped to provide these comments to the board during the meeting, however, I could not register in time. I hope that by sharing my thoughts here, we can accomplish the same result. I want to help put a face on migraine patients in the state and ensure that patients on Medicaid have the same access to multiple treatment options that those of who are not on Medicaid do.
I was first diagnosed with migraine disease when I was 6 years old. It progressed to chronic intractable migraine by the time I was in high school. Since my initial diagnosis, I have tried well over 50 pharmaceutical, pharmacological, and non-pharmacological treatment modalities for my migraine disease. These range from massage and acupuncture to inpatient hospital stays.
I am currently on two preventive medications for my intractable migraine. These are in addition to the three abortive medications I have access to for times when I need to stop a migraine from progressing. I have also made lifestyle modifications to help with treatment, including wearing dark prescription sunglasses indoors, reducing stress, and getting regular massages, physical therapy, green light therapy, and cryotherapy. All of these measures combine to create the best migraine treatment plan possible.
This trial-and-error process is not unique to me. Most Arizonans with migraine disease have had to try — and fail — many treatments to find an effective one. These efforts are only made more difficult when your treatment options are limited due to your health care coverage.
Migraine is a complex neurological condition that, up until recently, has suffered from a lack of innovation and targeted treatments. Fortunately, there is a new class of recently approved medications — known as calcitonin gene-related peptide, or CGRP, inhibitors — that can prevent the occurrence of a migraine rather than treat it as it hits. This is a new frontier in headache medicine that I honestly never thought I would see.
I have been on one of these medications, and although it did not work for me, I am grateful that I had the opportunity to try it. And others dealing with migraine and headache disorders should have a chance to try too.
I know and dread the fight that comes when I need to switch medications or attempt to try a newly approved medication. It is this fight that keeps many people with migraine and headache disorders from finding a treatment that brings the physical, mental, and emotional peace we need to live the lives we want and deserve.
***
Want to Get More Involved with Patient Advocacy?
The 50-State Network is the grassroots advocacy arm of CreakyJoints and the Global Healthy Living Foundation, comprised of patients with chronic illness who are trained as health care activists to proactively connect with local, state, and federal health policy stakeholders to share their perspective and influence change. If you want to effect change and make health care more affordable and accessible to patients with chronic illness, learn more here.