'I Dread the Battle': A Migraine Advocate Shares the Challenges in Accessing Innovative Treatments
'I Dread the Battle': A Migraine Advocate Shares the Challenges in Accessing Innovative Treatments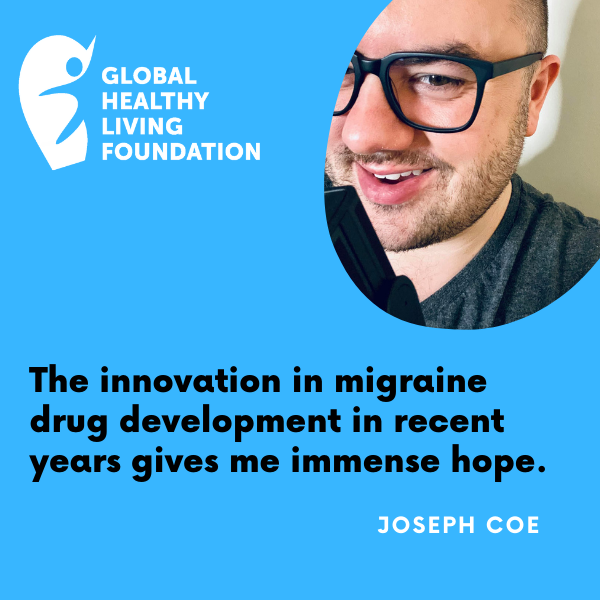 As a migraine patient advocate and Director of Education and Digital Strategy at the Global Healthy Living Foundation, Joseph Coe knows the power of speaking up about your personal health care challenges, especially when raising your voice can help other patients who are struggling. Joseph recently had the opportunity to provide testimony during a recent meeting of the New York State Drug Utilization Review Board (DURB). He hopes to help other New Yorkers with migraine disease get access to better treatments, such as calcitonin gene-related peptide (CGRP) medication.
Below is his testimony.
***
Thank you for providing me the opportunity to speak here today. My name is Joseph Coe, and I am the Director of Education and Digital Strategy for a New York-based nonprofit organization, the Global Healthy Living Foundation. The Global Healthy Living Foundation is a patient-centered organization whose mission is to improve the quality of life for people with chronic illness. Additionally, I have lived with migraine for nearly 20 years.
I will speak about my personal experience with treatment, and also share the collective wisdom my organization has received from New Yorkers who live with this disease.
I have been on three preventive prescription treatments and two abortive prescription treatments for migraine. That's in addition to over-the-counter medications, lifestyle modifications, blue light-blocking glasses, green light therapy, massage, cold/heat treatments, and supplements such as magnesium and CoQ10.
I'm sharing this list because the burden to find a right treatment is just that: a burden. And like myself, New Yorkers with migraine have tried and failed multiple treatments. We just want to live headache-free and pain-free.
I'm currently working on getting off my last preventive treatment because it has slowed my heart rate to the point of causing other health concerns. I learned of these additional health concerns after a trip to the emergency room. I am working with my cardiologist to taper off my most recent treatment and a neurologist to find a fourth preventive treatment that will hopefully help. It could potentially take a CGRP medication or a neurotoxin.
I am relived to know that I have options that will help keep me productive and give me the quality life I deserve. But I know from working with migraine patients that it might not be easy to access CGRP therapy because of insurance issues — from proving failure of multiple treatments to burdensome prior authorizations.
I dread the battle.
The innovation in migraine drug development in recent years gives me immense hope. I'm 36 and was stable on a preventive medication — until I wasn't this past April. The anxiety I experienced knowing I would have to switch medications was real. Knowing that there are more targeted therapeutic options available provides me some sense of relief.
Of behalf of patients, we respectfully ask that you please ensure that Medicaid patients have these same options for relief. It is difficult to live with migraine. It shouldn't be difficult to treat it.
Thank you for your time.
On May 13, 2021, the New York State DURB voted to increase the number of preferred CGRPs available to Medicaid patients from one to two. This decision applies to all fee for service Medicaid in New York State.     
***
Want to Get More Involved with Patient Advocacy?
The 50-State Network is the grassroots advocacy arm of CreakyJoints and the Global Healthy Living Foundation, comprised of patients with chronic illness who are trained as health care activists to proactively connect with local, state, and federal health policy stakeholders to share their perspective and influence change. If you want to effect change and make health care more affordable and accessible to patients with chronic illness, learn more here.