How a Pair of Sunglasses Is Reminding New York Fashion Week 'There's Always Someone Who Has Migraine'
HOW A PAIR OF SUNGLASSES IS REMINDING NEW YORK FASHION WEEK 'THERE'S ALWAYS SOMEONE WHO HAS MIGRAINE'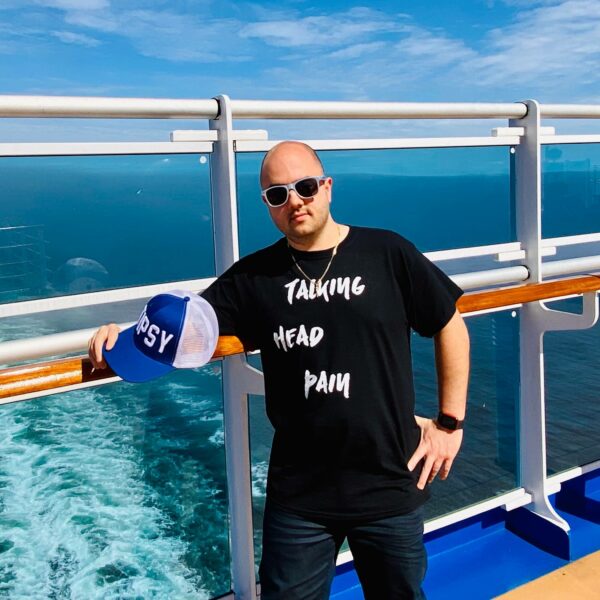 If you know Michael Kuluva, you may associate him with his career as a professional figure skater. Or as a fashion designer and creator of the fashion sportswear brand Tumbler & Tipsy. Or as an arthritis patient advocate, as Michael has raising awareness for the chronic condition ever since he revealed his rheumatoid arthritis diagnosis at his New York Fashion Week debut five years ago.
And if you don't know Michael Kuluva, then it's about time you should.
Since Michael first started his patient advocacy journey — by sharing what it's like to be a young person living with a chronic illness that impacts hand strength and mobility, an important tool of the trade for fashion designers — he hasn't stopped.
In partnership with the Global Healthy Living Foundation (GHLF) and CreakyJoints, Michael has continued to use his platform, and especially his annual New York Fashion Week show, as an opportunity to support people living with rheumatoid arthritis and the broader chronic illness community. But, as Michael says, it's important as a designer to "reinvent every year."
For a mission-driven designer like Michael, that perspective applies as much to his brand and clothing line as it does to his approach to patient advocacy.
This year, Michael's New York Fashion Week show will spotlight another debilitating condition to which he is personally connected: migraine.
"Michael has always worked with us to find new ways to amplify the patient voice and experience," says Joseph Coe, MPA, Director of Education and Digital Strategy at GHLF, who is a migraine patient himself. "In talking with Michael ahead of this year's show, we came up with the idea to expand awareness around different diseases of focus at GHLF. With migraine being such a prevalent disease and having recently launched a podcast about migraine and headache disorders called 'Talking Head Pain,' we thought that this New York Fashion week show would be a good way to spotlight the disease."
Migraine is a neurological disease that affects a staggering number of people. According to the American Migraine Foundation, one in seven people globally is affected by migraine. This includes Michael's mother, who has been impacted by the condition for as long as he can remember.
"I remember my mom suffering migraine attacks when I was a child," says Michael, recalling the hours — and sometimes days — she spent shutting out light and noise to get relief. "I don't want people losing that precious time, especially with their family. If we can bring migraine awareness and relief of any type, that's important."
Even though Joe and Michael have worked together on chronic illness patient advocacy at GHLF for years, it was only recently that Joe learned how Michael's mother has been affected by head pain — and that further emphasizes the need to raise awareness of how common and debilitating it is.
"There's always some who has migraine, but we don't know because a lot of us suffer in silence," says Joe. "We need to talk more about our head pain, which is why GHLF launched Talking Head Pain, a podcast aimed at having conversations that we often don't have around migraine and other headache disorders. We hope that the fashion show and the podcast will create more empathy around this often-debilitating condition."
Fashion for Migraine Patients
For Michael, it's important to design items that are fashionable and functional for people with chronic illnesses. He may opt for looser garments so as not to irritate the skin plaques on those with psoriasis or use larger buttons to make it easier for people with arthritis to get dressed.
When it came to designing an item to be functional and fashionable for people with migraine and headache disorders, the first thing that came to Michael's mind was sunglasses.
"When I think of getting through a migraine attack, I think about needing darkness," Michael says.
Sunglasses help highlight the fact that light sensitivity is a common and often unavoidable migraine trigger. There are even entire advocacy campaigns aimed at raising migraine awareness that center around sunglasses: The Association of Migraine Disorders hosts an international advocacy event called Shades for Migraine every June 21, for example.
"For many of us who live with migraine, sunlight — or light in general — can cause pain during and after attacks," says Joe, who models the sunglasses in this year's show. "The sunglasses Michael designed are one of the visible ways he shows support for the migraine community."
This year's show also features advocate Jaime Sanders, The Migraine Diva, who is one of many chronic illness patients modeling Michael's designs and advocacy messages. Both Joe and Jaime don the new sunglasses and Talking Head Pain T-shirts.
The sunglasses will be on sale for a limited time on the Tumbler & Tipsy website following the fashion show.
Raising Awareness in Your Community
Every year, Michael's New York Fashion Week show and Tumbler & Tipsy line sparks conversation about what it's like to live with chronic illness and lets patients come together as a community, sharing strength in the opportunity to be visible and open about the challenges of managing these conditions.
We at GHLF hope to inspire members of the chronic illness community to raise awareness through their platforms, whatever they may be.
"I want people to see that wherever you are in your life, you have an area you can influence. There are people you can educate and institutions that you can work within," Joe says. "Is there an event happening in your place of worship that you can use to raise awareness? Are you in a book club where you can recommend reading something that highlights the issues you care about? You can use the tools and opportunities you have to raise awareness wherever you are."
You can join Michael and the CreakyJoints family for the Tumbler and Tipsy by Michael Kuluva 2022 Collection event, airing on Tuesday, September 14, 2021 at 8 p.m. ET via YouTube.
Prior to the show, at 7 p.m. ET, CreakyJoints will be cohosting a #CreakyChats on Twitter with the Canadian Arthritis Patient Alliance and CreakyJoints Australia. During the chat, members can connect with Michael to discuss his work and ways to amplify chronic illness representation and voices. To participate in the live #CreakyChats, follow CreakyJoints on Twitter.
Listen to Our New Podcast Talking Head Pain
If you have pain because of migraine or other headache disorders, chances are you've felt alone, misunderstood, and frustrated about how to manage your symptoms and get others to grasp what you're going through. Our new podcast shares the stories, challenges, and successes of other people living with migraine and headache so you can learn how they're coping and get support. Learn more and listen here.